From Out-of-Print to Ebook!
Edith Hope Fine has  taught school, tutored, run after-school programs, and done a lot of writing—newspapers, magazines, books. She's written 15 books and today she is blogging about her first venture into ebooks.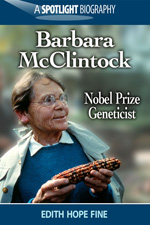 Is your book out of print? Do you own the rights? Think about heading to the Wonderful Land of ebooks. That's what I did. When my Barbara McClintock: Nobel Prize Geneticist went out of print that seemed the end of the trail. Instead, as of April, it's an ebook with gorgeous new cover, color illustrations in the interior, a hyperlinked table of contents, and cool links, thanks to eFrog Press.
Here's the step-by-step process to create an ebook.
• Scrutinize Original Book
Does your research hold?
My research in the late '90s included trips to Cold Spring Harbor Laboratory on Long Island and the American Philosophical Society in Philadelphia, across from the Liberty Bell. Maize scientists gave me input as I worked to make her complex discoveries understandable for readers sixth grade and up. I knew the research was solid.
Is your topic noteworthy?
Barbara McClintock has been called one of the most important figures in twentieth-century science. Key figure? Yes.
• Analyze the Book's Potential
Do original sales warrant making this an ebook? Your royalties will be much higher with an ebook, so you'll be able to pay down your costs much sooner and travel to the Wonderful Land of Actual Writing Income. How novel. Go from less than 10% with an out-of-print title to 70% with an ebook at Amazon? Sounds good to me.
• Get Your Rights Back
If your contract doesn't mention e-rights, you're set. Publishers began to press on ebook rights' clauses in the early 2000s. I was lucky. My contract didn't include e-rights. But get the return of your rights in writing.
• Content
While I didn't find the "final final" copy of the manuscript, I did find one that was close. Since a School Library Journal review had said, "This is what every good biography should be," there weren't many changes to be made. Two friends helped me do a read-aloud comparison of the book and the computer document, checking for accuracy, making minor changes, doing slight editing.
• Illustrations/Photos
Next came contacting photo sources about re-use. I was fortunate in that the archivist at Cold Spring Harbor Lab, McClintock's home for five decades, was the same one I had used previously. The Internet has changed the way one looks for photos. Nigel Holmes emailed a good copy of his "jumping genes" diagram from Time magazine. I received new copies and permissions from McClintock's lab, the American Philosophical Society, and from her niece, Marjorie Bhavnani (McClintock as a first grader, her name on the chalkboard honor roll), all via email.
• Cover Design
This is critical. Your cover needs eye appeal. I found a beautiful color photo taken by award-winning professional Nik Kleinberg. A smiling Dr. McClintock holds an ear of maize, which she studied in unlocking the groundbreaking ideas that changed the world of genetics. eFrog Press connected me with a graphic designer who created the cover template for this new Spotlight Biography series. We looked at potential designs, fonts, photo placement, top and bottom ribbons, and color schemes before settling on one that really popped.
• Formatting
Ereader devices make it easy for readers to hop between chapters and to the glossary or footnotes via links. Rather than page numbers (page size varies depending on type of reader and size of font) to identify permissions for illustrations, eFrog Press used "Figure 1, Figure 2 . . ." We moved acknowledgements and permissions to the back of the book along with the footnotes so that readers would get to Chapter 1 more quickly—especially important if perspective readers download a free sample. We added a bright maize icon at the top of each chapter for the color ereader devices. For future titles we will also include first chapters of other ebooks in the series and links to purchase them.
• Conversion
Since I'm a writer and, face it, have no interest in learning the tech aspects of creating an eBook, I was fortunate that L.C. Scott's eFrog Press was there to handle the conversion. L.C.'s a techie, writer, writing instructor, and editor who also has the important ability to speak English . . .
• Marketing
Marketing is your responsibility. Today's writers need awareness of social media to reach the intended audience. See the posts on social media here at Take the Leap.  We chose to go exclusively with Amazon for the first 90 days. The KDP (Kindle Direct Publishing) Select Program gave us five days to offer this biography free. You can still get on board, downloading Barbara McClintock on June 16 (Dr. McClintock's birthday) and 17. Do take a look. And if you liked learning more about this inspiring scientist, I hope you'll spread the word with others—science teachers, young girls interested in science, biography lovers, and others—and leave a review at Amazon.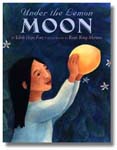 It's easy for me to turn lemons to lemonade—I wrote Under the Lemon Moon. But you, too, can turn lemons to lemonade when your book goes out of print. Just head for the Land of Happy ebook Authors.
Although I am new to ebooks, I have 16 traditionally published titles, and would be happy to answer any questions you have about my journey into ebook publishing.  Questions? Comments?
Tags: ebook, electronic rights, formatting