Hera Hub, a spa-inspired coworking space for entrepreneurial women, will host an Authors' Salon featuring two Southern California romance writers discussing their paths to publishing. Through eFrog Press I have had the opportunity to meet many authors and helped select the speakers and will lead the panel discussion on writing process, publishing, and marketing.  Details: Tuesday, October 20, from 6 to 8:30 p.m. in Carlsbad. Register online at http://tinyurl.com/authorsalon. Can't attend? A follow-up blog will share their wisdom.
There are so many ways to get published in 2015. Jan Moran and Judith Lown have published  traditionally as well as indie. Both also write romance but Moran writes historical and contemporary fiction and Lown focuses on the Regency Period. Both know how to write a compelling tale that keeps their readers turning the pages. They will be featured speakers at the October Authors' Salon on writing and publishing romance (see details above).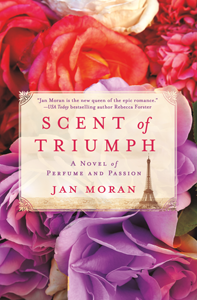 Moran will talk about her historical novel, Scent of Triumph (St. Martin's Press). A very long plane trip to Paris seemed much shorter as I read the ebook edition. I began to understand so much more about the perfume industry that, of course, I had to purchase a very special new scent. I was in Paris after all! As Moran said:
"I write stylish books for smart women. My characters are often running a business, and juggling their love life and family responsibilities. Like real people, they make mistakes, but they always save themselves in a creative manner. In both my contemporary and historical novels, I write for the modern woman who wants to enjoy all life has to offer."
Much like her characters, Moran draws on her international travel and business experiences, infusing her books with realistic details. She also writes contemporary women's fiction (Flawless, Beauty Mark, Runway) and nonfiction books (Vintage Perfumes, Fabulous Fragrances). I enjoyed Moran's presentation at the SDSU Writers' Conference in San Diego and invited her to be part of the Authors' Salon. She also presented at the Romance Writers of America (RWA) earlier this year.
Judith Lown began reading historical Regency romance during a stressful time in her life when she was a social worker helping disintegrating families. She needed to escape during her free time, and began reading historical Regencies. Lown said:
"This genre was created by Georgette Heyer and her Regencies were marked by heroines of taste and courage and heroes who could more than hold their own with ladies who knew their own minds. Heyer despised sentimentality, cowardice, and both mindless conformity on one hand, and self-indulgent non-conformity on the other."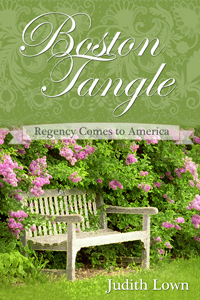 In her newest title, Boston Tangle: Regency Comes to America, Lown transports three of her English characters from previous books to Boston where they interact with the upper class and, of course, there is a love story—a tangled tale. Lown's heroine Drusilla Fortesque is a lady who knows her own mind and Lown laces her writing with wry wit and avoids sappiness. Heyer would be proud.
Judith Lown has a Ph.D. in clinical psychology and her understanding of family systems theory helps her develop rich, character-driven plots. She is a dog lover and an active volunteer for the Greyhound Adoption Center which has inspired her to include a canine character in each of her novels.
During the panel discussion, authors will share their writing process (very different), their publishing paths, and advice to aspiring authors. If you do not live in San Diego County and cannot attend this stimulating evening (did I mention wine and dessert?), watch for a follow-up blog where I will share all their practical advice!