L.C. Scott is the founder of eFrog Press and an author. Her many years of teaching at the high school and university level and her freelance writing career have prepared her to lead a team of experts to guide both fledgling and experienced authors through the maze of indie publishing. Today on Take the Leap she shares how she makes custom business cards to keep up with her rapidly changing business—DIY, of course!

Although I am a big fan of sites like Vistaprint and Moo Cards, I prefer to design and print my own business cards until I get the content and design just the way I want it. As an entrepreneur with a young business (2 ½ years old), I know things can change quickly.
Three days before a big networking event I realized my business cards were lacking. No time to order online, so I resorted to DIY.
Now I did have a cool logo to use. My brother-in-law is a wildlife artist and sketched a frog sitting on an iPad (instead of a lily pad). Perfect for eFrog Press, as we started out with a focus on creating ebooks. Never seen a frog with fingers? That's a northern leopard frog or Lithobates pipiens. Really. Here's proof.

How to DIY Professional Business Cards
Don't have a color laser printer and industrial paper cutter? No worries. You can still create professional looking business cards.
I love Avery's linen cards. The rich texture gives a custom look to homemade cards. Also, Avery has greatly improved their perforation methods. No longer are your cards marred by little bumps that reveal to all that you punched them out of sheets of perforated cardstock. Avery's Clean Edge business cards pop out with smooth, flawless edges. My personal favorite is Avery® Linen Textured Two-Sided Printable Clean Edge Business Cards for ink-jet printers.
The other feature I love is the printable backs. I was able to free up an increasingly crowded front side and list our services on the back. For a touch of color and to highlight our social media presence, I decorated the bottom edge with social media icons.
Business Card Content
Let's talk about content. Of course you want logo, business name, and your name front and center—or at least front! Be sure to include your website so people can learn more about your business and remember why they have your card when they clean out their wallets.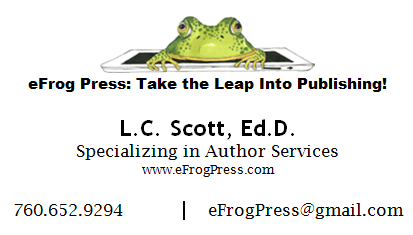 You want people to contact you, right? So why put your email and phone number in 7-point font? As I age my near vision fades, and I resent having to use a magnifying glass to read a phone number when there is plenty of white space for a bigger font!
As eFrog Press has evolved over the last 2 ½ years, it has been convenient to add new services to the back of the card. Of course, not all businesses have changed as much as publishing services in recent years, but all successful entrepreneurs sharpen their focus and need to update their business cards to reflect those changes.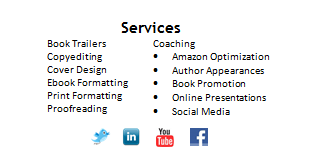 Designing Your Business Cards
Avery provides templates but I just use Microsoft Word. Follow these steps to create your own business card using Word.  (I use Office 2010, so depending on the version of Word you are using, some of these steps may be different).
1. Click on Mailings tab (I know you're not mailing anything but this is the secret location).
2. Click on Labels (top left).
3. Click on Options (bottom left of new window) and scroll through until you find the Product Number for the business card stock you are using. Mine are Avery #8873. Then click OK. (more…)