Publishing an ebook (or print title) can help you promote your brand and add to your income stream. You have a business because you are an expert in your field. Further establish your authority by writing a book.
Not really a writer? eFrog Press provides all the services you need including developmental editing where we help your organize your ideas and shape your book. Don't have the time to write your book? We even have ghost writers–professionals who will put your ideas into a polished manuscript.
The book has been called the new business card. Don't miss an opportunity to connect with potential customers and promote your brand. Want to know more? Contact eFrog Press.
Two entrepreneurs write a national best seller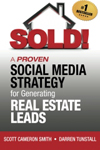 "Linda Scott and her staff at eFrog Press were extremely professional, knowledgeable and helpful in the process of editing our self-published book. They were very communicative and readily available to assist and offer their invaluable experience in helping shape our manuscript into a reader friendly book which went on to become a #1 NATIONAL BESTSELLER. eFrog Press helped guide us with the organization of the book from the early stages of revision to the final stages of the copy editing where they focused on the professional use of grammar, spelling and referencing."
Scott Cameron Smith and Darren Tunstall, authors of SOLD! A Proven Social Media Strategy for Generating Real Estate Leads
Ready? It is as easy as one, two, three!