10 Reasons to Attend a Writers' Conference
LC Scott, owner of eFrog Press, reflects on books, publishing, indie authors and writing in Take the Leap.

Last weekend I attended a wonderful conference—the 31st annual San Diego State University Writers' Conference. Careful coordination ensured that writers at any level of experience gained new information and had the opportunity to network with fellow writers, published authors, literary agents, and editors from major publishing houses. There was a nice mix of major speakers, practical workshops, consultations, and networking time.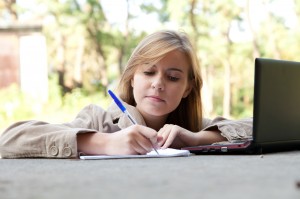 Should you invest the time and money to attend a writers' conference? Here are my ten reasons why I think it could be worth it.
1. Meet other writers
Writing is a solitary experience. You sit alone at your computer typing away, persevering, but it is comforting to meet others who share your passion. There is something magical about meeting other writers. Imagine the power of being surrounded by hundreds (or dozens) of writers.
2. Meet published authors
I have heard dozens of authors speak and have never heard the same publishing journey twice. It is inspiring to hear how other real people fulfilled their dreams of publishing their book, whether through a legacy publisher or the indie route. You will learn about the many different ways to make your dream a reality.
3. Form a writing group
It is important to read to a live audience not made up of adoring (or critical) family members. Putting together a group of nearby writers to meet on a regular basis and critique each other's work is invaluable—and free.
4. Discover beta readers
When your manuscript is "done" (note the emphasis), you need a few trusted readers to read your draft. You need feedback on parts that are confusing, boring, and even parts that soar. You do not want to delete the most powerful sections if you are asked to tighten the story. And, of course, you can reciprocate and read their drafts.
5. Speak with agents
Many conferences have literary agents available to meet with authors one on one. Sometimes you send a few pages before the conference and sometimes you get ten minutes to pitch your book. The job of a literary agent is to acquire works from promising authors so don't miss this opportunity.
6. Meet with editors from publishing houses
Writers' conferences are one of the only ways to meet with an editor directly without going through an agent or being miraculously found in the slush pile of manuscripts. Research the publishing houses represented so you can pitch to an editor who actually acquires books in your genre.
7. Learn about the publishing business—yes, it is a business
Some aspiring authors are a little starry eyed about publishing but it is a business first. Legacy publishers will not acquire your book unless convinced it will make money for them. And if you plan to indie publish, a very real option, you want to make sure that your investment in editing, cover design, formatting, etc., will be recouped by book sales. In addition, there is the matter of ISBNs, barcodes, copyright, contracts, and other legal issues. Do your homework.
8. Learn more about your genre
When you hear authors in your genre speak, consider reading their books and then connect with them through social media. Immerse yourself in reading books in your genre so you are aware of the sometimes-unwritten rules that passionate readers of this type of book expect the author to follow. And also be aware of when you can take risks and deliberately break those rules.
9. Discover current trends
After two or three days at a writers' conference you will undoubtedly notice hot topics in your genre. Beware of blindly following trends. It can take years to publish a book (often two years) so the popular books now were pitched two or three years ago. Agents and editors are often looking for something new. Many writers with no real interest in teens jumped on the YA bandwagon because of the phenomenal success of the Harry Potter and the Hunger Games series. Agents and editors were gagging on stacks of YA fantasy and dystopian manuscripts—and probably still are. Write what you know and love.
10. Understand your role in marketing—including social media
Marketing is the key to finding readers.  Whether you are with a legacy publisher who connects you with their publicist or you are going it alone, you will have some role in marketing your book. Conference workshops showcase winning strategies from successful authors. You can learn how much marketing you want to do and how best to invest that time.
What have you learned at conferences?
Would love to hear how you have benefited from writers' conferences. What has been most helpful for you?
Coming Soon: Tips on making the most of your conference experience!
Tags: aspiring authors, author conferences, indie publishing, new authors, SDSU Writers' Conference, SDSUwritersconf, writing conferences