eFrog Press Recommends Books for Holiday Gifts
LC Scott, owner of eFrog Press, reflects on books published in 2014. Next week she will focus on titles for children.
As I look back over books we have worked on at eFrog Press in 2014, I have some wonderful holiday gift recommendations for the readers in your life. Not sure how to gift an ebook? All of the big ebook sellers provide a simple process. I don't mean a gift card. I mean there is a method to send a person a specific ebook that you think they would enjoy reading. For example, Barnes & Noble's website allows you to select the book you want to gift and then click on "Buy as Gift" (to the right of the Buy Now button) to send the gift to the recipient. On Amazon, find the book you'd like to send and select the "Give as a Gift" button (to the far right of the page, under the Buy button).
So here are my recommendations.
Science Fiction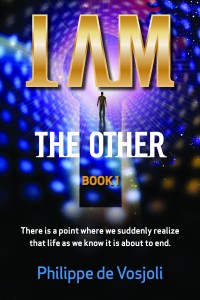 For a futuristic page turner, consider gifting Philippe de Vosjoli's I AM the Other and his sequel, The CyberBardos. An unknown entity is taking over computer screens around the world and transmitting puzzling messages that inspire fear in some and awe in others. Governments, religious groups, and individuals struggle to make sense of the ongoing messages. The second volume may be even better than the first so put this fast-paced series at the top of your list for science fiction lovers. Available in print and ebook.
Classic Westerns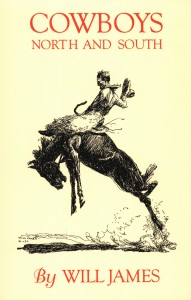 Prefer Westerns? Will James was a real cowboy who wrote and illustrated tales based on his own experiences in the Wild West. James published a 22-book set on the range and now, for the first time, Bareback Publishing has released four titles through eFrog Press as ebooks: Cowboys North and South, The Drifting Cowboy, Lone Cowboy: My Life Story, and Smoky: The Cowhorse. In the preface to Cowboys North and South (1922), James writes, "The cowboy's life can't be learnt in a day or even a year, it's a life you got to be raised at to understand, and I've had it proved that in my work even tho it may be rough, all the folks of the cow countries are backing me in what I say, and I hear the same holler as I used to when riding the side-winding bucker 'stay a long time cowboy.'" Written in authentic cowboy vernacular, these titles bring the West back to life and are accompanied by illustrations by the author. Now available as ebooks.
New Western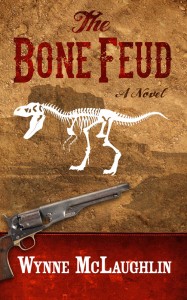 How about a rollicking new Western with scientific touches? Screenwriter and video game designer Wynne McLaughlin's The Bone Feud is the real story of a bitter feud between two paleontologists as they scoured the Wild West for skeletal remains of undiscovered dinosaur species. Scientist-adventurers Edward Cope and O.C. Marsh inadvertently unleashed "dinosaur fever" across the globe, and their amazing discoveries became the subject of bidding wars by universities, museums, and even the great showman P.T. Barnum. Their story has never been told, until now. This book is a fun read with a strong thread of truth. Available in print and ebook.
Historical Fiction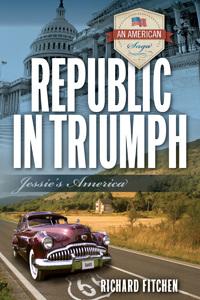 Any historical fiction lovers on your holiday list? Richard Fitchen's writing combines storytelling with meticulous historical research. As a former professor, social sciences bibliographer at Yale University, and research librarian and bibliographer at Stanford, Fitchen does his homework and is passionate about making history come to life for his readers. His An American Saga series is a bold undertaking following feuding American families through the centuries from the 1700s to modern day.
Republic in Triumph: Jessie's America covers 1908 to 1964. Attorney Jessie LaBarre practices judo and serves as an advisor to presidents. She spurs the growth of civil liberties, labor relations, women's rights, and collective security, and she paves the way for a revolutionary culture of automobiles and airplanes. Readers of this historical novel meet leading men and women of the tumultuous decades from Theodore Roosevelt to Lyndon B. Johnson. Her family's nemeses, the Camerons, plot to destroy Jessie and her family. Although she wins some convictions against them in court, a ruthless new Cameron generation extracts a terrible price. Available in print and ebook.
Christmas Picture Book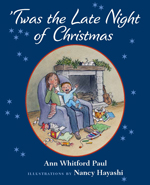 Need a gift for a family that celebrates Christmas? 'Twas the Late Night of Christmas by Ann Whitford Paul and illustrated by Nancy Hayashi is a fun picture book that adults and kids alike will enjoy. This delightful retelling of the classic Christmas poem gives Mrs. Saint Nick a starring role and the recognition she deserves.
'Twas the Late Night of Christmas and all through the house
Everyone was exhausted, even the mouse.
The children were whining. The house was a mess.
Mom slumped in despair from all of the stress.
The perfect gift for hassled parents overwhelmed by the crazy-making business of Christmas. View the book trailer and let Malcolm in the Middle's Jane Kaczmarek tell you more. Available in print, ebook and read aloud.
The Joy of Gifting Ebooks
The best thing about gifting ebooks is you can wait until the very last minute to make your purchases without paying for expedited shipping!
What are your favorite books to gift at this time of year? Share with us below in the comments.
Tags: best books of 2014, Christmas presents, ebook gifts, holiday gifts. gift ebooks