Your First Book Signing: What every new author needs to know
L.C. Scott is the founder of eFrog Press and an author. Her many years of teaching at the high school and university level and her freelance writing career have prepared her to lead a team of experts to guide both fledgling and experienced authors through the maze of indie publishing. Today on Take the Leap she advises new authors on preparations for their first book-signing event. Previous post shares how to give a two-minute book talk.
Do you have a favorite pen for book signings? If you are new to this author thing, believe it or not most seasoned authors do!
What Pen to Wield?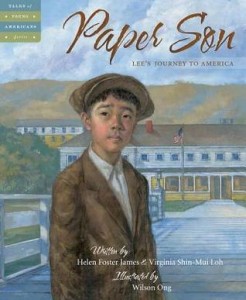 It's not a status thing; it's a practical thing! If you choose the wrong pen, the ink will bleed through the page (horrors!).  Depending on the type of paper, some pens will not write on the page. How embarrassing to go to a book signing and not have a pen that can write on your own book!
When I asked Virginia Shin-Mui Loh,co-author of Paper Son and The Jade Dragon, if she had a favorite, she laughed and pulled her special signing pen from her bag—it's a Bic Mark-It fine point in black. She loves the way it glides when she autographs stacks of books.
Recently I attended a workshop by Harry Paul on his newest business book, Who Stole Excellence? He is best known as the co-author of Fish!: A Remarkable Way to Boost Morale and Improve Results, which sold in the millions! Millions! So Harry Paul has signed thousands of books and does not take his book signing instrument lightly. He had finished signing when I approached to request an autograph and he graciously sat down and pulled out an elegant case with his official book-signing pen!
That's how it's done. Find the perfect pen with the right feel, the right flow, the right color ink, and keep it ready.
Autographing Your Books
But what do you sign? Of course, you sign your name but give this some thought. Prolific children's author Edith Hope Fine has some practical advice for first-time authors in her new book, Jump, Froggies! Writing Children's Books: 89+ Tips for Beginners.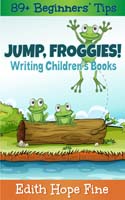 Think ahead. How will you sign your book? You can just sign your name and the year. Or you can add a message. If you opt for the latter, make your words fit the project and make what you say meaningful.
After illustrator Kim Doner and I spoke at an International Reading Association (IRA) conference, she drew Alphy with colored pens as we signed books and added a speech bubble for me to write in! When autographing Under the Lemon Moon, I draw a moon and stars and write "May you read by the light of a lemon moon." I now know that that's a lot of words, especially if there's a line waiting, so with Water, Weed, and Wait, I write, "Water, weed, and READ!" Much shorter. Cryptomania! gets "[Name,] logophile and bibliophile. Carpe curiosity!" I write with a silver or gold pen in Sleepytime Me so it shows on the deep blue of the night sky on the glossy end papers. With Armando and the Blue Tarp School, Judith and I write, "YOU can make a difference."
I love artists who illustrate their autographs. Author/illustrator Salina Yoon draws a curvy snake and writes "Happy Reading!" when signing her lift-the-flap book, Opposnakes. Can you doodle? Get creative.

Interacting With Your Readers
When you get to the event, be memorable and don't rush your readers. I will never forget driving my daughter's Girl Scout troop to a bookstore to hear Ann M. Martin speak about the books they were obsessed with—The Baby-sitters Club Series. Most had never met an author before, and this was an author they loved! After the talk they patiently stood in line forever to have their books signed. Martin was so patient and attentive to each one despite the fact that it was long past time to close the store. She gained many more readers that day.
So remember, too, that you have an opportunity to connect with real readers—or their parents or grandparents—when you are signing your book. Take your time, look into their eyes, listen, and then move on.
TIP: Bring Post-its and ask those in line to print the name they want you to sign the book to and attach it to your book.  When it is their turn you will know exactly how to spell the name. Do you know how many ways there are to spell Sherry? Let's see. Sherri, Sheri, Sherrie, Cherie, Cheri, well, you get the idea.
Please Share
How do you deal with book signings? Any advice for new authors?
Tags: autographing, best pen for book signing, book signing, new author book signing, signing books, tips for new author book signing