Today is the Anniversary of the Battle of New Market featured in new YA Novel "Shenandoah"
Seasoned journalist and food blogger Laura Grouch interviewed author Nancy Johnson about the release of her new YA Civil War novel. To mark the anniversary of the Battle of New Market, Shenandoah, Daughter of the Stars will be a free ebook on Amazon today and tomorrow, May 15 and 16.
Even though it took place more than 150 years ago, author Nancy Johnson believes Americans of all ages would benefit from knowing more about the Civil War.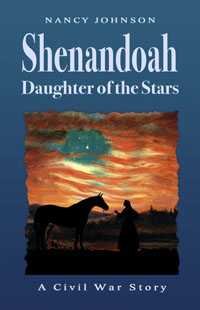 They especially need to know that young people also gave their lives in the struggle, as shown in her third book, Shenandoah: Daughter of the Stars (ebook $3.99; paperback $9.95). The Battle of New Market, which took place on May 15, 1864, in Virginia's Shenandoah Valley, was notable for the participation of nearly 250 military cadets—the youngest only age 15.
When Johnson was teaching grades four, five and six in California, she realized her students didn't know much about the great War Between the States. "I wanted to spark an interest in a part of history that I believe is still influencing us today," she said. "The divisions between North and South, conservative and liberal, black and white, are still an element of life in this country."
Though she is a native Californian, her own roots reach back to Civil War days. Passed down in her family were letters from relatives, Union Army soldiers, who were in the midst of those battles and who described life during that time.
The Origins of Shenandoah
So when she was looking for a new project, her husband suggested, "Why don't you go write a book?" Johnson decided to make use of her family history and do just that.
Her first young adult novel, My Brother's Keeper, was set in the thick of the Civil War, from Northern Virginia to Gettysburg and back to Appomattox, drawing on a rich vein of family history and mementos.
She followed it up with A Sweet-Sounding Place, about Moses, a black youth from Massachusetts who encounters a runaway slave named Samantha.
Now comes the third in the trilogy, "Shenandoah: Daughter of the Stars," which describes events from the viewpoint of Hannah, a Southern girl who nonetheless believes slavery is a great moral wrong.
Inspired by a visit to the Virginia Military Institute, Johnson weaves a battle fought by its young cadets alongside the Confederate Army into the story. The Battle of New Market was a victory for the Confederate Army. General John Breckinridge called on VMI's cadets to fight Union soldiers. Forty-seven cadets were wounded, and 10 later died of their injuries. One of the characters in "Shenandoah," Charlie, is a VMI cadet who is wounded in the battle.
"While doing research for the second book, we went to the Shenandoah Valley, and happened to be there on the day the Virginia Military Institute cadets did their re-enactment of the battle," Johnson recalled. "Right then, I knew this would be the beginning of my third book."
A Strong Heroine
Although most books about the Civil War have young male heroes, Johnson said, she wanted to tell this story from Hannah's point of view." She was just one of three characters at first. But girls need to know they had a part to play, too," she said.
To interest young female readers, Johnson made Hannah a strong-willed, independent-minded teen who can hold her own with her spirited brother, Willy, and their cadet friend Charlie. "I wanted her to be a girl who stood up for herself. The Crazy Man (in the book) tells her she could do whatever she wanted to do."
And Hannah does. As the war tangles all three of the characters in difficulties, she remains the moral centerpiece of Shenandoah. Hannah encounters a bit of romance, a lot of adventure, and great sadness and betrayal. But through it all, she is true to herself.
Johnson is true to her roots, too, and isn't above doing some play-acting in local classrooms to educate students in the importance of the Civil War. "I still go to the classes and read the family letters, wear my great-grandmother's shawl—and I ham it up. I even put on a bit of a Southern accent."
Now retired from teaching, she spends time enjoying her grandchildren and traveling with her husband. That is, when she's not at work on her fourth book, which will weave together characters from the first three.
She will bring back Luke, the slave from Shenandoah who is attached to General Custer's unit, and pair him with Samantha, the runaway slave from A Sweet-Sounding Place.  Mattie and Josh from My Brother's Keeper will make an appearance, as will Hannah and her love interest, the dashing Colonel Payton.
"There will be a magical-mystical ending to the whole thing," Johnson said, "at least the way I'm planning it now."
 FREE TODAY
To commemorate the 150 Anniversary of the Battle of New Market, Shenandoah: Daughter of the Stars is free May 15 and 16 on Amazon. Please help spread the word.
Visit author Nancy Johnson at www.nancy-johnson.com.
Tags: Battle of New Market, Civil War fiction, Civil War juvenile fiction, reconstruction fiction, Virginia Military Institute, VMI