5 Things Authors Should Know About the Increase in Ereading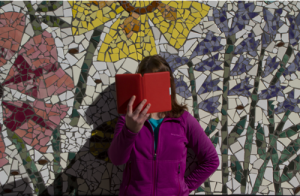 The Unknown Reader blogs monthly about all things ebook.  Naturally, she has strong opinions about her reading material and her ereading devices. Currently, she is partial to her Kindle Paperwhite. We met with the Unknown Reader to capture a portrait of her in front of a mosaic in Solana Beach, CA, doing what she does best–reading! Naturally, she is a voracious reader and today she shares the latest study from the Pew Research Internet Project on the increase in ereading devices–one of the Unknown Reader's favorite things!
The Pew Research  Internet Project reliably supplies us with tons of quality stats, and figuring out what they mean for you is key. Let's take a look at their latest release to see what the numbers are saying for ebook authors and readers in the US.
Here are the top five takeaways from Pew's 2013 ereading snapshot:
1) 4% of adults only read ebooks.
While ebook reading continues to grow, people hesitate to go digital-only. If you're an indie ebook author, consider also printing copies of your book. The higher quality print-on-demand options now make creating print titles as affordable as creating ebooks.
2) 8% more adults have tablets and another 8% now have ereaders, thanks to the 2013 Holiday Season.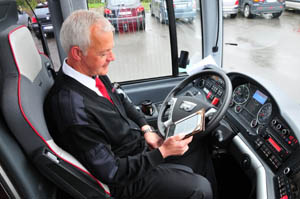 From September 2013 to January 2014, adults with tablets went from 34% to 42%, and adults with ereaders went from 24% to 32%.
More people are ready to read ebooks on the go. I think the lower ebook-reading-on-computers stats suggest that mobility is key to ereadership, and reading ebooks on computers is going to keep declining. I even read on my phone.
3) 47% of young adults (18-29) have read an ebook in the last year.
This stat is an impressive climb from 31% in November 2012. And 2014 heralds the year that adults 18-29 surpass the 30-49 crowd, which only increased 1%, from 41% to 42%.
Why have these number climbed? Considering holiday gifts of ereaders and required educational ebooks for school, I'd guess there are plenty of reasons that young adults are ereading. Do you agree? Let me know your thoughts in the comments!
4) 93% of women have read an ebook on their ereader in the past year — versus 77% of men.
Interestingly, women gravitate towards their dedicated ereading devices more so than men who own an ereader.
While we can have a long discussion that includes references to the classic Men are from Mars, Women are from Venus, I think the difference in ereading between men and women is an important one to note. Does the ebook or ereader industry target women more than men — or simply appeal more to them?
(As totally anecdotal evidence, I can only call to mind Kindle ads and product pages with women holding the device. What have you noticed in ebook and ereader marketing?)
5) 55% of tablet owners read ebooks on them — a big jump from 23% in 2011.
Despite the bright screens, tablets are now key ebook reading platforms. This means that the statistic in #2 of this list is quite significant: The increase in tablet ownership should mean an increase in ebook reading overall.
Seeing the percentage more than double since 2011 forces me to admit that e-ink isn't a priority for everyone. As much as I love it, I also know how convenience can trump many factors. That said, I hope a hybrid e-ink tablet will emerge in the not-so-distant future.
Please Comment
Thoughts on these stats—and the conclusions I drew from them? Let me know what you think in the comments! I'm eager to hear your insights on the ereading world.
Tags: e-readers, e-reading devices, ereaders, ereading devices, growth of ereading, Pew Research