A Suspenseful & Sobering Eco-Thriller: A Review of The Glass Sky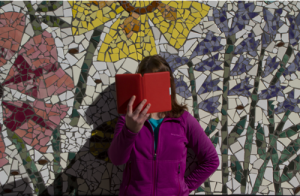 The Unknown Reader blogs monthly about all things ebook.  Naturally, she has strong opinions about her reading material. We met with the Unknown Reader to capture a portrait of her in front of a mosaic in Solana Beach, CA, doing what she does best–reading! Naturally, she is a voracious reader and today she shares her reactions to an ebook she read that has caused lots of discussion. Keep reading to find out what the Unknown Reader thinks of The Glass Sky.
Tired of slow-moving plots? Sick of forgetting to finish that ebook that chronically sinks to the bottom of your "to read" list? Then you'll be pleased to find out that The Glass Sky by Niko Perren is not a snooze fest. Though I didn't read the book very quickly, the unfinished narrative kept me itching for resolution.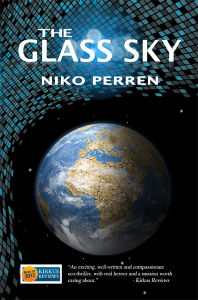 The story follows two main characters: Tania Black, an American scientist who's unexpectedly thrown into a dangerous job as the UN's Chief Biospherist,  and Tian Jie, a Chinese engineer who might know how to obstruct the intensifying sunlight — and buy Earth time to clean up its act. While Tania battles political schemes and scrambles to grassroots organize, Jie hurries to develop the planet-saving shield technology.
You'll see a convincing picture of the political backhanding, close-call manhunts, and weather catastrophes. As addictive as the action can be, this global-climate-change saga borders on going overboard. Sure, the intertwining plots are gripping and offer a cliffhanger at every turn, but how much action and how many cliffhangers are too much?
If the sheer amount of edge-of-your-seat action deters you, I'll bet you'll still enjoy the staging in the year 2050, which features many predictive technologies, world crises, and political maneuvers. While the imagined tech was hard to picture at times, Perrin usually provides enough context to convey its purpose and appearance. Seriously, folks, if you're like me, a sucker for Wired and FastCo articles on the world to come, you'll get a kick out of Perrin's evolution of Google Glass, smartphones, cars, and more.
Dialogue and Humor
Perrin occasionally lightens the serious mission with bantering dialogue and a handful of humorous forays into the future, like the reality TV and talk show hosts of tomorrow. Since the book's subject matter is so heavy, and the tension so high, I expected Perrin to add more mirth than he did. Romance also weaves in and out of the storyline, which adds a touch of character development and humanness to temper the nail-biting suspense.
Aeronautics and Environmental Science
Another enticement is Perrin's pain-staking research into aeronautics and environmental science. When I read science fiction, I'm often skeptical of the scientific accuracy and jargon; how much is made up? Well, besides Perrin's imagined gadgets and scenarios, the science is extrapolated from current documents (which he discusses in the Author's Note).
The characters also face moral dilemmas over political dealings and saving the planet. When does a lie outweigh the benefit it will likely have for generations of humans and animals on Earth? At what point do you risk—or sacrifice—your life for humanity? For a cause? A planet?
PG-13
To rate the age level, as far as appropriateness, I'd say The Glass Sky is at least PG-13. In addition to the scientific jargon, more challenging words appear occasionally, but not too often. Plus the style is straightforward, with plenty of dialogue and direct, intense declarative sentences.
The Glass Sky is simply one of the books you're compelled to finish once you've started it. Try it out, and let me know what you think of the plot and action!
Tags: climate change thriller, eco-thriller, Niko Perren, The Glass Sky