13 Word Jumbles Writers Can Avoid to Prevent Embarrassing Bloopers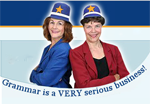 We (Edith Hope Fine and Judith Josephson) are the Grammar Patrol. Both of us taught for years and are now writers, with thirty plus books between us, including our two popular grammar guides, Nitty-Gritty Grammar and More Nitty-Gritty Grammar. For close to twenty years, we taught writing and grammar basics and now we blog about grammar for writers. 
Spring House Cleaning—Easy Mix-Ups
Time to dust off your grammar and mop up those bloopers. Here's another baker's dozen of easily confused word pairs.
1. AMONG, BETWEEN
Conventional wisdom used to call for using the preposition "between" with two, and using the preposition "among" with more than two.
• Jake forced me to choose between Brussels sprouts and cauliflower.
• Jake forced me to choose among Brussels sprouts, cauliflower, and broccoli.
This rule is relaxing, but do use "between" in one-to-one or direct relationships. Hint: Use "and," not "or," to connect the two words:
• He juggles a balancing act between work and family.
Use "among" when the relationship is less specific, broader.
• Among the many descendents of Johann Sebastian Bach, four became musicians.
"Don't use "amongst" or "whilst" unless you are writing a period piece.
2. BOTH, EACH
The words "both" and "each" can be used as adjectives or pronouns.
Use "both" when it applies to two words.
• Both Steve Jobs and Donald Duck liked bow ties.
Use "each" as an adjective when it applies to one word.
• Each Rose Bowl float is unique.
3. BRING, TAKE
Use a "come, go" analogy to help remember these two. "Come" is like "bring." "Go" is like "take." Is the action coming toward you?" If so, use "bring." If the action is away from you, use "take."
• Please bring me this hot cocoa. (Come to me with the cocoa.)
• Take toilet paper to the outhouse. (Go re-supply the outhouse.)
4. EMIGRANT, IMMIGRANT
The "come/go" analogy works here, too. An "emigrant" is one who leaves (goes from) a country. An "immigrant" is one who enters (comes to) a country.
• The emigrant fled her country for political reasons.
• Chinese immigrants helped build the Transcontinental Railroad.
TIP: The verb forms work the same way: To "emigrate," is "to leave a country." To "immigrate," is "to enter a country."
5. COMPLEMENT, COMPLIMENT
The verb, "complement" means "to make complete."
• That boa complements your gown.
The verb, "compliment" expresses praise.
• Harold compliments Jessica on her new hairdo.
6. FARTHER, FURTHER
Think "greater distance" with the adverb "farther." (There's a "far" in "farther.")
• Sheryl threw the discus farther than ever before.
The adverb "further" means "more distant in degree or time."
• "Look further," the soothsayer advised. "Your destiny is yet to unfold."
7. HOME, HONE
The verb "home" means "to move toward a goal or target."
• The exterminator homed in on the rats' nest.
The verb "hone" means "to sharpen or perfect."
• The cellist honed her bowing technique.
8. DISINTERESTED, UNINTERESTED
"Disinterested" means "unbiased, neutral."
• They consulted a disinterested expert.
"Uninterested" means "indifferent, not interested."
• I am uninterested in skydiving.
9. MEDIOCRE, MUNDANE
The adjective "mediocre" means "undistinguished, ordinary."
• Ida's cherries jubilee was mediocre.
"Mundane" means "practical or commonplace."
• Bored with mundane housework, Priscilla took up welding.
10. ENERVATE, ENERGIZE
The verb "enervate" means "to weaken."
• The flu enervated Jonathan.
"Energize" means "to make energetic."
• Dancing energizes me.
11. FLOUNDER, FOUNDER
The verb "to flounder" means "to struggle falteringly."
• Confused, the hikers floundered about, lost.
The verb "to founder" is "to sink, to fail utterly."
• The ship foundered on the shore.
• Many Wall Street companies foundered in 2008.
(TIP: The noun "flounder" is a flat fish. The  noun "founder" means "one who establishes.")
12. GANTLET, GAUNTLET
The nouns "gantlet" and "gauntlet" are often confused. For "gantlet," think "ordeal or course"—"run the gantlet." For "gauntlet," think of a glove—"throw down the gauntlet."
13. UNIQUE/MORE OR MOST UNIQUE
 The adjective "unique" stands alone, meaning "one-of-a-kind." You can't make anything more "one of a kind." The Statue of Liberty can't be "more unique," "most unique," or "very unique."
Please Share
There you have it. Your grammar house is spiffed up for spring with this baker's dozen of refreshers. The hows and whys of word fumbles like these are sprinkled throughout our Nitty-Gritty Grammar books. Do send along the mix-ups you encounter. We love hearing from you.
Tags: among or between, avoid bloopers, grammar, The Grammar Patrol, word choice