5 Reasons to Give an Ebook as a Holiday Gift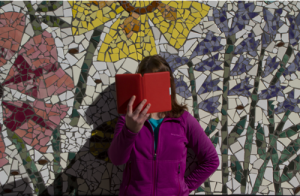 The Unknown Reader opines about how to gift ebooks this holiday season. Although she hides her face behind her Kindle, the Unknown Reader never hides her opinions. Read on to learn why ebooks make the ideal holiday gift!
Cyber Monday might be a distant, foggy memory. At this point, you probably hate to think about any more holiday planning or browse Amazon & eBay yet again. But, if you need to (or if there are also winter birthdays to shop for), there's the instantly-delivered digital gift of an ebook.
I'm all for giving ebooks as gifts because it's . . .

1. Convenient
Though shopping burnout happens by this point in December, shopping for ebooks is relatively painless. View some excerpts, read some reviews, and find the ebook that your recipient will enjoy. Even the iBookstore has caught on and added ebook gifts this season.
2. Easier on the budget
While convenience is a main reason to go for ebooks, it's also a matter of budgeting. A good ebook can easily cost under $15—and incur zero shipping & handling fees, which can mean huge savings compared to one- or two-day shipping. Giving an ebook also means that you don't have to disclose how much you're spending on the gift, as you would with a gift card.
3. Easier on the environment
Giving an ebook means one less thing to feel guilt over this holiday season. Without sending any packages on trucks, packing gifts in plastic, or giving something that will someday end up in a landfill, you can feel great about your choice of gift. (And you don't spend gas money going to a bookstore or resources to wrap a traditional book!)
4. Thoughtful
With any book, it's clearly the thought that counts and expresses your unique connection with the recipient. When you know what a person will really spend their time reading, or a topic that you two share, an ebook is a great gift. (And you'll know them well enough to know what device to buy the ebook for!)
5. Not tricky to learn how           
Starting a new gift giving tradition can be daunting. That's why it's key to find some great how-to's.
Check out these guides to begin:
How to give ebooks via Amazon, Barnes & Noble, iBookstore, Kobo, and Sony's Reader Store (videos)
How to give ebooks via Amazon, B&N, iBookstore, Kobo, and All Romance Books/OmniLit (text)
How to use QR codes to give free Project Gutenberg books on gift labels, cards, etc. (text & screenshots)
Ebook Suggestions for Last-Minute Gifts
'Twas the Late Night of Christmas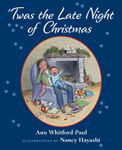 This fun take on the classic 'Twas the Night Before Christmas is a great gift for families, kids, parents, but especially moms worn down by the demands of the season! Sit by your fireplace (where the stockings are hung) and sip egg nog as you order from Amazon, Barnes & Nobel, or iTunes (Read Aloud version). Perfect for Christmas!
View book trailer starring Malcolm in the Middle's Jane Kaczmarek and read interview with Mrs. Saint Nick about her featured role in this fun book.
Bloody Lessons: A Victorian San Francisco Mystery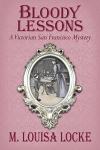 Have a friend who loves mysteries or historical fiction? Bloody Lessons: A Victorian San Francisco Mystery by M. Louisa Locke is both–a cozy mystery set in Victorian San Francisco. This is the third book in the series so you could gift the first title, Maids of Misfortune, but Bloody Lessons is a great read and gives enough context to be read first. Especially  fun for teachers! The author is a retired history professor who knows the Victorian period well.

Unveiling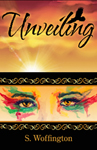 Need a gift for a friend who likes more recent history, stories about other cultures, or a bit of romance? We have the perfect new title–Unveiling by S. Woffington. The heroine, Sara, is passionate about art and her culture's ancient traditions but flees her sheltered family life to live in America and pursuit her art. Two men follow and she faces two possibilities for her future. The author lived in Saudia Arabia and her love for the country and people shine through.
View the book trailer and read what S. Woffington blogged about this new title.
 Dear Ann, Dear Mary: A Correspondence of Grief and Friendship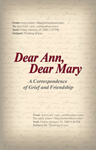 But what to get for your friend who is grieving and dreading the holidays? The friend who cannot bear to hear one more "Ho, ho, ho!" or another "Merry Christmas!" Dear Ann, Dear Mary is the ideal gift. Written by Ann Carli and Mary Scherr as they struggled to cope with the deaths of their husbands, these two women documented their journey in an email correspondence full of wisdom and even humor as they supported each other. This honest book has already helped others. Here is a recent review from a reader: "Touching, heartfelt and theraputic for a person who had lost a loved one. Highly recommended. I bought 5 copies, two as digital books to share with friends."
Authors Ann Carli and Mary Scherr blogged about their book.
Are you giving ebooks this season?
If so, what's your main reason for going the ebook route? And don't forget to check out ereaders to give as gifts this year, too