An Interview With Mrs. Saint Nick about New Christmas Book!
We are delighted to interview Mrs. Saint Nick as the holiday season approaches. She has some great advice for slowing down and enjoying this time of year. We also ask about the new gift book featuring her Christmas duties.
eFrog: Hello, Mrs. Saint Nick. I appreciate your taking time for our interview during this busy time of year.
Mrs. Saint Nick: It's more my husband's busy time, although the more frazzled he gets, the more frazzled I get.  Much as I love the season of giving, I can't imagine giving to all the children in all the world.  But that's my husband.  He's always dreamed and acted large.  And I love him for it.
eFrog: Tell us about your role at Christmas.
Mrs. Saint Nick:  The elves do most of the work in the factory, but they often need a woman's touch.  How many men, truly, know how to dress a doll?  And they would never think a girl wanted a baseball bat, unless I set them straight!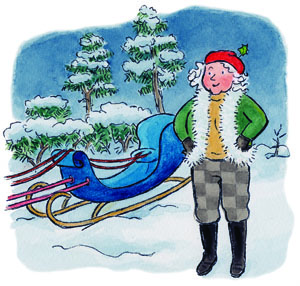 eFrog: Is it true that you have your own sleigh?
Mrs. Saint Nick:  Absolutely.  My husband's sleigh is a mess when he returns Christmas morning.  The first thing he does is give it a good scrubbing.  The elves help.  And his poor deer.  I couldn't ask them to travel one more time around the world.  That's why I have my own team with Rudolph's sister Ruby lighting the way.
eFrog: What is the most challenging part of your job?
Mrs. Saint Nick:  Often when I arrive at homes, the fathers and mothers are still wide awake, both overwhelmed by the task of cleaning up.  I find myself pausing to make them tea and chat a bit and sometimes the delay forces me to work all through the day after Christmas so I can reach everybody.
eFrog: Many families, especially mothers, are exhausted by Christmas night. Do you have any strategies for easing their stress?
Mrs. Saint Nick: Absolutely.  I started a blog for just that purpose at www.mrsstaintnick.wordpress.com  Too often people rushing here and there forget the true meaning of Christmas—love and family.  I give suggestions that will take the pressure out of the holiday giving you more time to spend with people you care for.  I cover topics like alternative ways of shopping, gifts that keep on giving, recipes for meals that can be prepared, frozen, and brought out when you're too tired to cook, plus directions for simple, inexpensive decorations to brighten up the house.  There will also be recommendations for books for family reading and other activities that put the focus back on connecting with those most dear.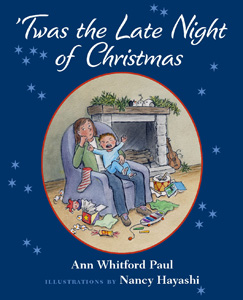 eFrog: I have always loved the book 'Twas the Night Before Christmas featuring your husband. Is it true that there is now a book featuring you?
Mrs. Saint Nick:  I'm so excited that there is a new book about me, titled 'Twas the Late Night of Christmas.  It's about time an author gave credit to all my behind-the-scenes work.
eFrog: Sounds like a great Christmas gift! What formats are available?
Mrs. Saint Nick:   In addition to print, it is an ebook. Also through the iTunes Store it will be available as a Read Aloud (for iPad and iPhone) with Jane Kaczmarek, that lively mom of Malcolm in the Middle, narrating plus wonderful holiday music in the background.
eFrog: Could we read a few pages? 
Mrs. Saint Nick: Even better, my friend Jane Kaczmarek will read the beginning to you. Click here and enjoy!
eFrog: What a joy to speak with you, Mrs. Saint Nick. Any last words of advice about preparing for a hassle-free Christmas?
Mrs. Saint Nick:  I'm a big believer in planning ahead.  I pick up gifts all year long so when December comes, I have my gifts already.  For example, Mr. Saint Nick, as you can tell from his pictures, loves his cream.  He whips ours up whenever we have pie or cake.  Well I saw a cream whipper advertised last March and knew he'd love it.  I bought it immediately and it's already wrapped for him to open Christmas Day.
Remember also that Christmas is about love and family.  Make sure that any preparations you do for the holiday don't take away from time spent together.  A gift will soon be forgotten, but caring never will.
Please Share
Please share your thoughts about keeping the holidays hassle free.
Tags: Ann Whitford Paul, Christmas book, Christmas gift, Holiday stress, Jane Kaczmarek, Malcolm in the Middle, Mrs. Saint Nick