Chanel Bonfire: An Explosive Memoir
The Unknown Reader blogs monthly about all things ebook.  Naturally, she has strong opinions about her reading material. We met with the Unknown Reader to capture a portrait of her in front of a mosaic in Solana Beach, CA, doing what she does best–reading! Naturally, she is a voracious reader and today she shares her reactions to an ebook she read that has caused lots of discussion. Keep reading to find out what the Unknown Reader thinks of Chanel Bonfire.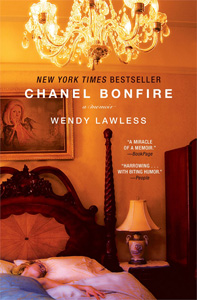 Looking for a reality check? Wendy Lawless's life will give you one. Whether or not you were raised in a household as volatile as Lawless's, Chanel Bonfire offers a therapeutic or insightful look at how humans can cope with life-draining relationships (in Lawless's case, with an alcoholic, suicidal, erratic mother). Readers may understand Lawless's endless striving to maintain her family's "normal" image.
While my curiosity was piqued by the real-life drama of an "unstable, fabulously neglectful mother," I didn't expect to be as riveted as I was. More than riveted. Obsessed. I read for five (almost) uninterrupted hours, and then finished the book the next day. Though you'd think I'd find Chanel Bonfire due to critical acclaim in Oprah and a shout-out in the New York Times, I stumbled upon it on IndieBound.
Here's a quote from the USA Today sums up the Chanel Bonfire reading experience very well:
"Biting . . . a quick but powerful read that you can only wish was fiction."
So what do I think of the story? Well, Lawless balances concrete detail and pointed reflection. Her voice inspires empathy. Her eventful life keeps the momentum of the story going. I was always curious what Lawless' mother would say or do next. Chanel Bonfire prompts us to question facades: What secrets lie behind that elegantly groomed family?
Who should read it?
I'd say this memoir is at least PG-13 for attempted suicide, sex, and violence, and I think people high school and older would appreciate the book. Check out Lawless' Chanel Bonfire blog, Facebook Page, and website, and, if you're interested, googling "Narcissistic Personality Disorder" (which Lawless finds out her mother has) will offer a profile of the disorder, blog posts, and books for families and friends looking for help and healing.
Get Chanel Bonfire on Amazon as a paperback, hardcover, Kindle edition, or audiobook.
Please Comment
Do you have an indie gem to share from IndieBound or another site? Would you read this book (or have you already), whether or not you're a fan of memoirs?
Share your thoughts and suggestions below in the comments to start some discussion

Tags: attempted suicide, book review, Chanel Bonfire, ebooks, narcissistic, narcissistic personality