Preparing for your first school visit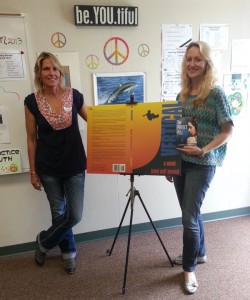 eFrog Press supports authors as they promote their ebooks (and print titles, too). Recently we connected two first-time, young adult authors with a local high school. The pairing was ideal as both authors were excellent writers and had created high-interest titles for teens. Even better, one of the books had natural appeal for boys (often reluctant readers) and the other appealed especially to girls. But best of all, each title had strong characters and enthusiastic readers of both sexes. On the right authors Janet Eoff Berend and Lindsay Woolman pose with poster of Berend's cover. Great prop!
Vertical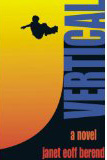 Vertical by Janet Eoff Berend is a coming-of-age tale about a high school guy obsessed with skateboarding who struggles with friendship, bullying, and ethical decisions. eFrog Press encouraged Berend to create a book trailer with us because her potential readers included young skateboarders who typically inhabit YouTube. Berend enlisted 15-year-old pro skateboarder Mitchie Brusco to narrate and star in the video. High school student Zane Timpson, a seasoned skateboarder and aspiring filmmaker with many skate videos online, filmed and edited the trailer. (Look for more about this amazing project in a later blog post.) Berend shared Vertical The Book Trailer Starring Mitchie Brusco at her May 17 school visit—coincidentally, the very day Mitchie Brusco competed in the Barcelona X Games and won a silver in Big Air to go with his bronze for Vert.
We opened the presentation by showing the book trailer on a big screen with great sound!

Tip: Always confirm beforehand with the school if you have any technical needs. A simple request a month ahead can be easily fulfilled, but may be impossible to grant if you wait until the day of your visit to ask.
The Perfect Pull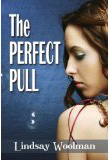 After showing the book trailer to great applause, students heard an engaging excerpt from The Perfect Pull. Lindsay Woolman's novel focuses on a young teen girl's struggles with trichotillomania (a disorder that includes hair pulling). She lives with her surgery-obsessed, Barbie-look-alike mother who enlists her daughter in a reality show. Want to know more? Read Woolman's blog post From Idea to Publishing My First Book.
Planning
The authors met twice with eFrog Press to plan for the big day. We created a panel presentation for the school's small theater and a writing workshop for a classroom session. To ensure that both authors' voices were heard and to give the students different views on writing and publishing, we developed a list of five questions to ask each author and rotated their responses.
Panel Presentation Questions
1. What is your writing process?
2. How did you get the idea for your book?
3. Tell us about your publishing journey.
4. What's next? What are you working on now?
5. What do you like most about your book? OR What scene was hard for you to write?
Panel Presentation
The panel format exceeded our expectations! For example, when asked about her writing process,Berend explained that she always writes her ending first. She has to have that final scene nailed down and to fully understand the character arc before she writes the early chapters. It was great fun to hear Woolman's contrasting response. She gets to know her characters first and then just starts writing. She never knows how her book will end. In fact, writing endings is something she struggles with and she revised her final chapter of The Perfect Pull many times to get it just right.
There were some probing follow-up questions from the audience that caused the authors to pause and really think. For example, who are your literary influences? These teens were impressive!
Advice for Author Visit Preparation
Preparing for your first author visit or want to revise your presentation to be more educational and also more fun? Here is some advice:
Read Alexis O'Neill's article "The Truth about School Visits: How teachers judge author presentations" in the SCBWI Bulletin, May/June 2013 issue. Not a Society of Children's Book Writers & Illustrators (SCBWI) member? If you are writing for children or teens, consider joining!
Visit Alexis O'Neill's AuthorVisitExperts.com for detailed advice from a former teacher and seasoned author whose school presentations are loved by kids, teachers, and librarians!  I had the good fortune to attend a workshop on author visits by O'Neill at a writing retreat. She knows what she is talking about and generously shares advice and even forms you might need on her website.
Plan, plan, plan! Do NOT wing it!
Be sure any handouts or slides include your author website address. Don't have an author website? Read Roxyanne Young's blog post The Author's Dilemma: Website or Blog
ALWAYS find a way to read from your book. They invited you because you are an author so take the time to share your writing.
Consider creating low-cost bookmarks to share with audience. Bookmarks featuring your cover will help teachers and students remember to look for your book! Modern Postcard is one option for well-priced bookmarks.
Be sure to connect with the school librarian and donate or sell autographed copies of your book.
Give teachers and students evaluation forms so you can discover what is working and do it again and discover what is not working and fix it.
What advice do you have for successful author visits?
We would love to hear about your school visit experiences. What have you done that really worked? What will you never do again?
Tags: author visits, book promotion, Mitchie Brusco, SCBWI, trich, trichotillomania, Vertical, X Games Barcelona