Sizing Up a Lighthouse: The Light Between Oceans
The Unknown Reader will be reviewing ebooks. Naturally, she has strong opinions about her reading material. Over the holidays the Unknown Reader ventured West to San Diego so we took advantage of the opportunity to capture a portrait of her in front of a mosaic in Solana Beach, CA, doing what she does best–reading!
When I read The Light Between Oceans, (M. L. Stedman, Scribner 2012) I had my guard up. Compared to the classic lit I'd been sampling (like Austen's Emma and Doyle's Sherlock Holmes escapades) how could a living author measure up?
My cynicism slowly sputtered out (and with thousands of reader ratings online, earning it #1 Historical Fiction of 2012 on goodreads, it is already becoming a reliably good read). By the time I hit Part Two (a quarter through the book), I was hooked in the net of intertwining lives, building suspense, and connection to the characters. I craved Australia's shores while I ached with heavy post-war pain and joy. Nothing like a well-researched, well-plotted historical fiction novel to take my guard down.
As a brief, vague, non-spoiler nutshell, here's what you're in for:
1.    Wondering how to deal with life and love after various trauma
2.    Life's (and the plot's) crisscrossing paths
3.    Omniscient glimpses into each character's perspective
4.    Mysteries existence, birth, death, souls, God, fate, hope, love
5.    Neatly tucked in figurative language (heavy-handed at times)
6.    Realistic dialogue (with nifty post-WWI and tech jargon)
7.    Feeling the ocean's salty spray (through fresh, lively verbs)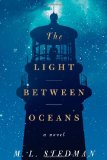 I'd give The Light Between Oceans 4 of 5 stars. It's a great read, yet I can't quite say its artistic finesse is equal to my favorite modern and old classics (Morrison's Beloved and Tolstoy's Anna Karenina come to mind). Additionally, I'm conflicted about the pacing. One side of me argues that the first 25% of the book was intentionally slow to contrast with the rest of the book while the other side of me thinks it could've been artfully condensed. Regardless, by the end of the book I didn't look back at the beginning wistfully or scornfully. I just had to accept it as something that happened.
While The Light Between Oceans wouldn't be rated as "mature" as Fifty Shades of Grey, I'd recommend it for 16 and up, as well as for those interested in the war history, Australia, and lighthouses along with those looking for a heart-wrenching, masterfully-woven escape.
In certain ways M. L. Stedman's book resembles Downton Abbey on PBS. Both I thought were too recent or too untested to challenge my attachment to classics. Both times I was wrong (though I still turn to Jeeves & Wooster for lighter-hearted hijinks than Downton). While The Light Between Oceans has fewer characters starring than in the Grantham's world, it still leaves me with a similar urge to solve the interpersonal puzzles, sympathize with each character in turn, and consider the mysteries of life and death and war and love.
If you'd like to hear what the author says about her inspiration (no spoilers), check out this interview. And, before you know it, DreamWorks may have The Light Between Oceans in a theatre near you. Ever wanted to learn about lighthouses? Love? Life? Look no further! You already have it at your fingertips (and there's a book trailer to check out before you buy it).
Please Share
What new additions to your favorite books/movies/TV shows/music lists have surprised you? Which new additions have usurped—or not quite toppled—your previous favorites? Leave a comment and share!