Reflections on my YA Novel about Sexting
Today eFrog Press welcomes veteran children's author Karen Mueller Coombs to share thoughts about the process of writing and publishing her latest YA novel–Sexted! Coombs is the author of ten published fiction and nonfiction books for children and young adults. Born in Wisconsin and raised in Northern Alberta, Karen is a former elementary school teacher now living in Southern California, where she ice curls and plays golf when she isn't reading and writing. You can learn more about her and her books at www.karencoombs.com.
A book about sexting? Written from a boy's point of view? A teenage boy who gets a racy photo from an anonymous girl? Where the heck did that idea come from?
At the time I began Sexted!, reports of sexting were beginning to permeate the media. Kids were being charged with disseminating and possessing child pornography, going to juvie hall because of it, even being threatened with having to register as sex offenders for life. It seemed like a perfect topic for a young adult novel. Enter Sexted!, first called U Sho Me Yrs, Il Sho U Myn after a text the main character receives.
So why write from the viewpoint of a teenage boy, since, obviously, I never was one?
I never even considered writing from the girl's point of view. Girls whose photos go viral sometimes end up committing suicide. Too dark for me. Besides, the topic seemed more charged with humorous, tantalizing possibilities when approached from the viewpoint of the thrilled, confused, titillated male receiver than from the viewpoint of the romantic, flirtatious, naïve girl.
And my male characters appeared quickly. They became real to me long before the sender of the photos even emerged. It was their story, not hers. And I enjoy writing from a boy's viewpoint, possibly because I grew up sandwiched between two brothers. I scarcely played with dolls or other girly toys. Not me. I played cowboys and Indians, hockey and softball. I climbed trees, collected baby mice, rafted on the pond, and owned my own .22. (Don't freak. I never killed anything.) In other words, I was a tomboy.
My Writing Process
Once I nailed the characters and the basic idea, I began to write—and write. I avoid plotting before I begin. I dive in and then go where the current carries me, which makes for a meandering journey with lots of back paddling. In my first draft, I had two subplots, and my two narrators, Finn and Josh, didn't sound distinctive enough, as pointed out by my editor, Deborah Halverson, former Harcourt Brace Children's editor and author of young adult novels and the book Writing Young Adult Fiction for Dummies. I stewed for a while, spying on the boys while they went about their lives and eavesdropping on their conversations. Suddenly, I began truly hearing their voices, the cadences of their speech. I felt I was channeling those two, hormonal, fifteen-year-old geeks. What a ride!
Josh—edgy and anxious, the scientist. A guy who stutters and speaks in short bursts with a staccato rhythm and who is prone to tossing out a few curse words here and there.
Finn—confident, modest, more literary, a young man who utters complete sentences and eschews (for the most part) any four-letter words.
A year passed as I wrote. My subject was timely. Perhaps too timely. The media were now full of news about how the punishment for sexting doesn't fit the crime, how the laws need to change. I had to get my book out there before it became historical fiction. But still I revised. Finally, once the extensive revisions and re-revisions were complete (two subplots removed, one later reinserted), I began sending the manuscript to agents and editors. Months passed. The manuscript got a few sniffs. Finally an editor expressed interest. But the publisher streamlined the company and closed the imprint before the editor could make an offer.
Taking the Leap
Knowing that even if I received an immediate offer from another editor or from an agent, it might be one or two years before the book became available, I took a leap of faith and decided to publish Sexted! as an eBook, followed by a printed edition. I had previously dipped my toe in the eBook waters with one of my middle grade, out-of-print novels, Beating Bully O'Brien, which I had extensively revised and improved, then released as Bully at Ambush Corner. Although the publisher of Bully did an excellent job of the publication process, I became disillusioned, because I was unable to access sales figures on my own, and had to wait for the company to release them. Those figures were also a few months behind, so, unless I phoned them regularly, I had no immediate feedback about the success of my extensive promotional efforts via my blog, also called "Bully at Ambush Corner," Facebook, Twitter, etc. Enter eFrog Press.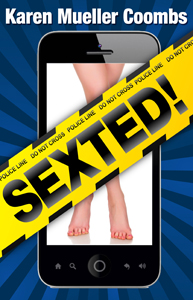 The most challenging aspect to self-publishing is acquiring a cover. I'm a bit of a control freak when it comes to some things—A BIT? hubby hollers in the background—and eFrog not only put up with my numerous requests, they came through big time, thanks to cover designer Suzanne Santillan. If those legs, the cell phone, and the police tape don't grab a teen's attention, nothing will.
After approving the cover, I nitpicked about copyediting suggestions and formatting. And still eFrog didn't tell me to take a hike; they were exceedingly accommodating. Cover. Conversion. Publication. Easy peasy with eFrog. Sexted! is available now in digital format and will soon be out in print as well. And it's still a contemporary novel, not historical fiction! Whew!
For those of us who have previously published books with the reassuring support and backup of a traditional publishing house, self-publishing an original manuscript can be an experience filled with trepidation. eFrog made the actual nuts and bolts of the business relatively painless—for me at least. I can't attest to how much pain I caused them. Here's hoping my leap of faith into the world of teenage sexting pays off.
If cell phone cameras had been available when I was a teenager, would I have sent a photo of my bare boobs, or any other private body part, to a guy I'd never met? To a guy I knew and liked? I DON'T THINK SO, even though my teen boobs were appealing enough at fifteen to warrant an obscene phone call from some unknown, drooling adolescent obnoxiously praising them. Thank goodness cell phone cameras didn't exist back then. That creepy adolescent might have sexted me a photo! Aaaaaaack!
More about Sexted!
Finn McCarthy and Josh Hadley feel like typical tenth-grade übergeeks who don't really stand out or fit in . . . until the day Finn is texted a racy photo from an anonymous female with the tantalizing proposition: Wan 2 c mor?
Feeling flattered, confused, excited, and nervous, Finn seeks the counsel of his best friend, Josh, and together they attempt to unravel the why and—most importantly—the who of this enticing message.
This task proves difficult, yet it's an intoxicating escape from the difficulties both boys face at home. Finn's mom is an alcoholic and his dad seems to accept her destructive behavior as status quo. Josh and his sister, Paige, are children of divorce living with a mom who is always working, and an absentee dad who has news that will change their lives forever.
While unraveling the mystery of these seductive texts, both Finn and Josh must face their demons and desires—and decide which risks are truly worth taking.
"Karen Coombs, yet again, tackles a hot topic from the perspective and authentic voice of today's teens. With genuine characters and authentic emotion, she reveals how seemingly innocent curiosity can lead to damaging consequences."
 Please share
Do you know of any incidents where teenagers were involved with sexting? What were the consequences? What should the consequences be for sexting?
Tags: adolescent fiction, gay parents, high interest fiction, sexting, YA fiction