Indie Novels Worth Downloading
A friend who loves to read and wants to support indie authors, decided to buy all indie for her holiday gifts. Much to her disappointment, the majority of the ebooks were so poorly edited that she returned them. At eFrog Press our mission is to provide a menu of professional services so that indie authors can publish titles that are a pleasure to read.
This year I have read many ebook novels written by indie authors that my friend could have gifted  without worry. Here are just a few such books—some we had the pleasure to work on and others we just had the pleasure to read. Buy with confidence. To learn more about any of these titles, just click on the cover.
Not sure how to gift ebooks? Read Ebooks Make Great Gifts for Kids!
Cozy Mystery
My first recommendation is the Victorian San Francisco Mystery series by M. Louisa Locke. I heard Locke speak at a conference in January and immediately purchased Maids of Misfortune: A Victorian San Francisco Mystery. Locke's success as a writer allowed her to retire early from her job as a history professor, but her attention to detail and historical accuracy shine through in every volume. I went on to read all her books and think you will too!
Maids of Misfortune Free for 1 Day Only on Kindle (December 28, 2012)
Uneasy Spirits: Free for 2 Days on Kindle (December 28-29, 2012)
Regency Romance?
Until I began working with Judith Lown, I had no idea what a Traditional Regency Romance was. I have learned it is not a bodice-ripper but a more genteel, historically accurate tale that takes place during the Regency Period. Want to know more? Read Lown's definition in her blog post The Roots of Regency Romance. I don't read romance but I do love Jane Austen and Lown's strong women characters, her witty comments, and plot twists appeal to me. Her first book, A Match for Lady Constance, was published by Avon (now owned and republished by Amazon) and her second  (with related characters) is an indie title—A Sensible Lady.  Lown is hard at work on the third. I have had a sneak peak and highly recommend that you start reading the first two now, so you will be ready when the third is published in 2013.
Historical Fiction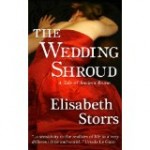 The Wedding Shroud: A Tale of Ancient Rome by Elisabeth Storrs is a gem of a story coming to us via Australia. This gripping tale of a young Roman woman who is married to an Etruscan nobleman as part of a peace treaty follows the young bride's journey to a new land and a new culture. Ever gaze in wonder at Etruscan jewelry in a museum case? Learn more about this fascinating culture. Storrs spent ten years researching and so the novel is saturated with historic details that compel the reader to keep reading. Her characters are beautifully developed and her plot evolves naturally and yet still surprises. The book ends with you wanting more, but, fortunately, there is a sequel on the near horizon! Learn about the author's publishing journey and view a video on her blog post What's an Author to Do?
I have read The Thinara King,  the second of the nine-book series, "The Child of the Erinyes," set in ancient Crete. Now I plan to go back and read the first title and Recbecca Lochlann is finishing the third. Here is what the author has to say to readers about her series:
"The Child of the Erinyes" is not for everyone. Along with some mature subject matter, it's an extended series, beginning in the Bronze Age and not wrapping up till the near future. It's a story that requires commitment and patience. Things hinted at in Book One, "The Year-god's Daughter," might not be resolved until Book Nine–the conclusion.
I love discovering a series I enjoy as there are always new titles to look forward to. Try the first volume—The Year-god's Daughter.
Thriller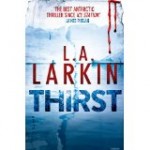 Thirst by L.A. Larkin is a page turner! Ready for thrills and excitement? Antarctica is the coldest, most isolated place on earth. Luke Searle, maverick glaciologist, has made it his home. But soon his survival skills will be tested to the limit by a ruthless mercenary who must win at any cost. The white continent is under attack. The Australian team is being hunted down. Can Luke stay alive long enough to raise the alarm? Can he avert a global catastrophe?
Thirst named to the Best Crime Fiction 2012 list!
Go Indie
Today I am here to dispel the myth that there are no well written ebooks. Download any of the ebooks above, cuddle up in a comfy chair, and disappear into another time and place.
Please share ebooks of worth you have enjoyed in 2012.
Tags: great reads 2012, historical ebooks, indie novels, traditional Regency romance