What's an author to do?
Elisabeth Storrs is the author of The Wedding Shroud, the first book in a trilogy set in early Roman times. Elisabeth has long held a passion for the history, myths and legends of the ancient world. She graduated from the University of Sydney with a degree in Arts Law having studied Classics along the way. She lives in Sydney with her husband and two sons and over the years has worked as a solicitor, corporate lawyer, governance consultant and is now a corporate writer.
So you've been writing for years—slaving over one novel until a transfusion is needed to replenish the blood you've sweated.  Confused over varying opinions, you've murdered enough of your darlings that you'd be gaoled for life if your words were children. And after constant editing you find yourself murmuring each noun, verb, phrase and sentence of your manuscript by heart.
Rejection has strengthened your character (you hope). Perseverance has become your mantra. Above all, the need to escape into a world of imagination has become as vital to you as eating, sleeping and working at your 'day job'. And then, if you are lucky, the impossible happens. The stars align and suddenly your novel is accepted, not only by an agent but by a publisher as well. You start upon a giddy ride, not quite believing that you are now moving through a process that you've only visualised: structural reports, copyediting and proofreading.  Suddenly your words are typeset, not just typed upon a screen. The heft of the paperback in your hand is a marvel. Seeing your name upon a cover is like a dream.
Expectations are high. Your publisher's reps work hard to sell your title to bookshops, and a lot of money is expended to market it in magazines and newsprint. The launch is celebrated with laughter and bubbly. And then the publicity merry-go-round begins. . .
After ten years of researching and writing my novel, The Wedding Shroud: A Tale of Ancient Rome,  I was fortunate enough to have it traditionally published. The experience was wonderful and I was delighted to have commissioning and copy editors who helped me polish it to publishable standard. What I didn't realise, though, were two basic facts: releasing a book is a gamble, and success needs to be immediate.
Publishing houses place a large bet when financing a book.  In the past, they were prepared to back debut authors in the belief that, over time, such writers could build up a following. Alas, no longer.  If a writer is unable to sell enough books in the first few months of publication, their novel is soon "spine" outwards, then no longer stocked at all, as the relentless release of new titles pressure the booksellers to make room on the shelves. Soon the only avenues left to sell a novel are online or as an ebook. Yet publishers tend to price digital books far too high due to a business model with a supply chain built on bricks and mortar. In effect, the author's cheaper e-version is in competition with their higher priced paperback. Guess which one a publisher would prefer to promote?
I'm an Australian author. The paperback version of The Wedding Shroud was only published in Australia and New Zealand. This proved a problem because I soon discovered that my main readership is located in the USA and the UK. For an overseas reader to buy my novel involves prohibitive delivery costs. As a result, being able to publish an ebook is crucial in order to reach a world-wide audience.
Sales of The Wedding Shroud were respectable but far from meteoric.  After six months I found myself in the predicament of many other midlist authors—marooned! I was expected to generate my own publicity and market my book via a constant presence in social media. And yet I had no control over its high price as both an ebook and a paperback in online bookstores.
So what was I to do?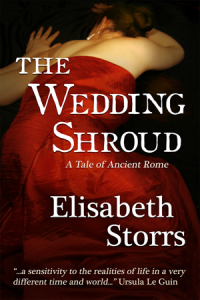 Recently the digital rights to The Wedding Shroud reverted to me. Instead of trying to find another traditional publisher I decided to release the digital version of my novel independently. The process was not as simple as people would believe. There were many technical issues I had to master in relation to formatting (luckily I had eFrog Press to help me!) I also quickly needed to learn the importance of meta data while grappling with the pros and cons between uploading via aggregators or directly onto retail sites. And yet, my research paid off. Two years after the paperback was released I'm now selling more books than I ever would in a physical shop.  I also have total control over pricing and categorisation as well as a far greater percentage of royalties. The cover of The Wedding Shroud is always displayed and my book will never be remaindered or pulped. Best of all, there is time to let readers all over the world discover it.  And next year, the sequel, Juno's Daughters, will be released as an ebook as well.
Ironically, by going "indie" I've received more publicity than I ever did when publishing my paperback via traditional means. Thanks to Kobo Writing Life, I was given the opportunity to be interviewed on national television about my decision to e-publish.
It's early days but at this stage I'm glad I made the choice to become an Indie. As a result I've met great authors who've never been traditionally published and whose books are doing well. They, too, have slaved over their novels, ensuring they meet a high standard. As for success—well, it's a gamble, but at least I'm rolling the dice.
---
The Wedding Shroud: A Tale of Ancient Rome
In 406 BC, to seal a tenuous truce, the young Roman Caecilia is wedded to Vel Mastarna, an Etruscan nobleman from the city of Veii. The fledgling Republic lies only twelve miles across the Tiber from its neighbour, but the cities are from opposing worlds so different are their customs and beliefs. Leaving behind a righteous Rome, Caecilia is determined to remain true to Roman virtues while living among the sinful Etruscans. Instead she finds herself tempted by a hedonistic culture which offers pleasure and independence to women as well as an ancient religion that gives her a chance to delay her destiny. Yet Mastarna and his people also hold dark secrets and, as war looms, Caecilia discovers that Fate is not so easy to control and that she must finally choose where her allegiance lies.
Exploring themes of sexuality, destiny versus self-determination and tolerance versus prejudice, The Wedding Shroud is historical fiction at its best which vividly brings Ancient Rome and Etruria to life while accenting the lives of women in ancient history.
The Wedding Shroud has been praised by Ursula Le Guin as follows: 'All the drama and sensuality of an historical romance, plus a sensitivity to the realities of life in a very different time and world. . .'

You can purchase The Wedding Shroud  via various retailers through Elisabeth's website. She also blogs at Triclinium.
---
What is an author to do?
You have read about the publishing journey of Elisabeth Storrs from traditional to ebook. Please share your recent publishing experiences. Is indie the solution for you or are you following the traditional path?
Tags: ancient Rome, Etruscans, historical fiction, Kobo, Kobo Writing Life, The Wedding Shroud